Volunteer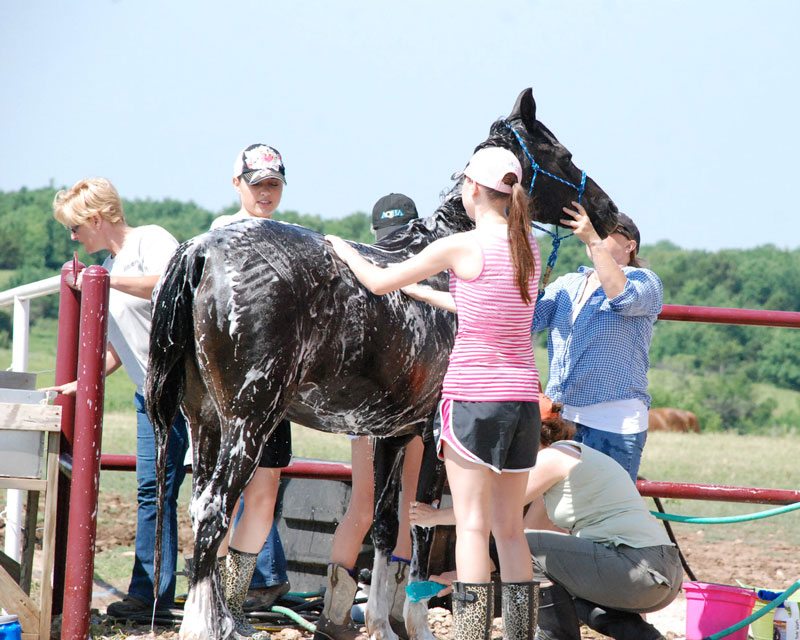 Volunteers are the back bone of our organization. Their hard work and dedication are what make our mission possible!
Interested in volunteering?
There is always plenty to do at Rainbow Meadows - both on and off site!! Our most critical need is the twice a day feeding and care of our horses (morning and evening), 365 days a year.  But there are always other needs.  Other tasks include:
Grooming and handling of our horses, donkeys and mules
Assisting with construction, repair or other projects at the facilities
Speaking to local organizations and schools about Rainbow Meadows and its mission
Participating in annual fundraising events
Hands on opportunities to learn how to train the horses
Many others
To apply to be a Rainbow Meadows volunteer, please complete and submit the volunteer application through the link below:
Please note: You will be asked to create an account in order to submit your volunteer application. This should only take a few minutes and your personal information will be protected.
~Minimum age requirement to volunteer is 12 years old. Between the ages of 12-15, the minor must have a parent or guardian, also signed up as a volunteer, to accompany and supervise them.
Questions?
Contact our Assistant Director, Tina Rollins at 785-257-3005
Current volunteer needs
 We are always in need of volunteers! Here are some specific volunteer roles we would like to fill:
 
ON-SITE OPERATIONS ASSISTANCE
Purpose: To help with daily routine facility and horse care activities
Skill set: Basic horse handling skills, good organization, ability to work in a team
Monthly time commitment: Variable based on volunteer's availability; ideally at least 4 days per month or more
TRAINERS/HANDLERS
Purpose: To provide rescue horses with ground work and/or in-saddle time, allowing us to assess them for training level and improve adoptability.
Skill set: Intermediate horse handling/riding skills (upper beginner welcomed if open to instruction)
Monthly time commitment: 1-2 days (4-6 hours per day), on-site, to be scheduled with executive director