Rainbow of Hope

Please note: You will be asked to create a user account to complete your member registration.
At Rainbow Meadows, it's about more than just numbers. It's about renewal.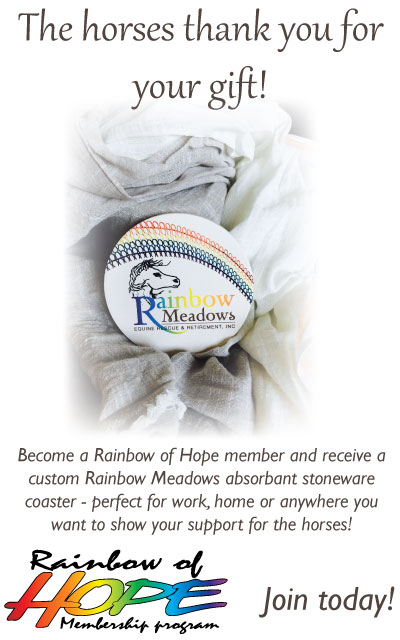 The horses that come to Rainbow Meadows have seen so much. They have seen cruelty. They have seen starvation. They have seen neglect. They have seen helplessness. But each one is met with a promise – the promise of a new beginning and a future of hope.
Read more about Rainbow Meadows' stories of renewal!
Our work is dependent entirely on the gifts and donations of our supporters. Every horse that is saved is saved by those dollars. When you choose to become a member of our Rainbow of Hope program, you are making the promise of a new beginning to the horses that need it most.
 
Membership levels
General - $40+ annually
Gold* - $1,000+ annually
 
How to join
It's easy! Just click the "Join" button below to create an account and become a member.
The need is great.
Every day, we receive calls about horses that are slipping through the cracks. Please help us respond to those calls. Help us give every horse a second chance. Help us bring renewal through rescue done right!
*Gold members will receive two (2) complimentary tickets to our annual "For the Love of Horses..." Benefit and Gala.